Sponsored Links
Are you looking for Scholarships in Nigeria for Nursery, Primary and Secondary School Students?
IJEDURU FOUNDATION OFFERS PARTIAL SCHOLARSHIP TO 30 CHILDREN AT STARPATH SCHOOL, MARYLAND ESTATE ENUGU
The ljeduru Foundation has offered a partial scholarship to 30 talented children who intend to register for the 2023/2024 session at Starpath Nursery and Primary School, Maryland Estate, Enugu.
The foremost education development foundation run by retired principals announced this at the school blessing event held on 23rd September 2021 at the School compound, Maryland Estates Maryland/Timber Junction, Enugu.
Starpath Iternational school uses British and Nigerian curricular, its core values are creativity, confidence, excellence, empathy, and resilience, and its vision is to nurture the latgest  of overachievers.
Sponsored Links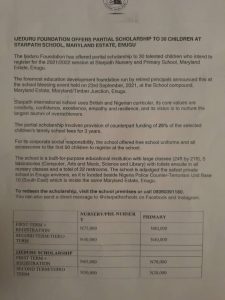 The partial scholarship involves the provision of counterpart funding of 25% of the selected children's termly school fees for 3 years.
For its corporate social 'responsibility, the school offered free school uniforms and all accessories to the first 50 children to register at the school.
The school is a built-for-purpose educational institution with large classes (24ft by 21ft), 5 laboratories (Computer, Ms and (Music, Science, and Library) with toilets ensuite in all nursery classes and a total of 22 restrooms. The school is adjudged the safest private school in Enugu environs, as it is located beside Nigeria Police Counter-Terrorism Unit Base 10 (South East) which is inside the same Maryland Estate, Enugu.
How to Apply For IJEDURU Scholarship for Nursery, Primary and Secondary School Students
To redeem the scholarship, visit the school premises or call 08060391180.
You can also send a direct message to @starpathschools on Facebook and Instagram
IJEDURU Scholarship Amount;
FIRST TERM + REGISTRATION: Nursery/Pre-Nursey = N65,000     Primary = N70,000
SECOND TERM/THIRD TERM:  Nursery/Pre-Nursey = N30,000     Primary = N30,000
Secondary School scholarships
Primary and Secondary School Scholarships in Nigeria
Scholarships in Nigeria for Nursery, Primary and Secondary School Students
Sponsored Links